06 June, 2007Let's Have a Soaking-Bath !
It seems like a lot of people getting soaked in the water, but actually it was the opening party of my hair stylist and good friend's salon BEIJING HAIR CULTURE in Shang Hai. ~ My hair is very difficult to be set, the nature is quite strange, it will curl by itself so except these three hair stylists, the others are not able to set my hair. One of them is in Taiwan, the other one is in this photo and her name is Fanny, the third is He Da Shi whom I have known for 31 years, and he has never left me.
In fact, hairstyle is very important, because it can make someone's face look chubby or thin, besides that it can show others one's character. My eldest sister makes me more understand that hairstyle is so important! This happened when I was in my teens, I asked my sister to cut my hair. Her performance was 100 percent, but the risk was 200 percent! At the same time my eldest sister swung her sharp scissors on my head and showed her talent as a hair stylist, my second sister who was in the first floor could hear the scream from the second floor ….my eldest sister who thought that she was capable, was not careful and cut a little upper part of my ear ! ! At that moment, the situation froze, my sister's wish to be a hair stylist also got frozen forever ! ! From this blood dripping experience, I learnt that cutting hair could not only depend on 5-dolar scissors. It also needs a pair of "safe" hands! !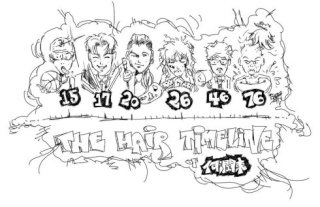 Above is my hairline. At the age of 15, I was very fond of Jordan, I wanted to cut my hair bald, let a little hair left and write on it number 3 which was the number of my T-shirt. But later it turned out to be my wish only, because my father would be surely against my idea. At the age of 17, when I was working hard to sell kitchen knife, the "mouse head" hairstyle was so popular, namely it was Guo Fu Cheng's hairstyle. At the age of 20, long hairstyle was so popular. I let my hair grow long till 20 cm from my shoulders. Both and back sides were clean cut, then the middle hair was pigtailed. Everybody won't be able to imagine how I looked like with that hairstyle.
At the age of 26, a wig that was very similar to real hair was very popular. Although most people did not remember this role, they absolutely would not forget – a blue-bowl instant noodle cap on the head. At the age of 46, I will have been a director for ten years (thinking about the most beautiful future) and I will have used a lot of brain, as a result, I will suffer from hair loss. At the age of 76, a pitiful old man. As I'm swimming alone at the beach, a little bird flying over and take away -- the only 'pride' I have -- my wig ~very pitiful ! ! !
source: http://blog.sina.com.cn/s/blog_473843a601000bz1.html
Last edited by fang2 on Mon Nov 22, 2010 10:08 pm; edited 6 times in total (Reason for editing : add a picture)
haha, his hairstyle was really like a blue-bowl instant noodle cap on the head in " Wind And Cloud 1"!



Posts

: 218


Join date

: 2007-11-08



banlong wrote:haha, his hairstyle was really like a blue-bowl instant noodle cap on the head in " Wind And Cloud 1"!


Peter's so funny!!! First, I didn't understand about this "blue-bowl..." then I see the pix.... and finally
guess
that it must be something about Bu Jing Yun's hairdo.
banlong, thankss... since u mention Wind & Cloud I, now I can be so sure.
I think Peter's present hairdo suits him so much. It makes him more charming

I don't like his hairdo which is long and without any bang. I don't mind his long hair but without bang...oh no..! Peter's forehead is so wide... so he looks good with bang. Don't u think so, guys?
"mousehead" hairstyle? Well, it was indeed very popular back then, thanks to Aaron Kwok! I liked guys with that hairstyle too those days!

The Hair Timeline sketch is really creative.
Fang
, yeah, with a high forehead like Peter, he looks so so much better with bang. His current hairstyle looks really good on him: short, neat, and stylish.



Posts

: 72


Join date

: 2007-11-18



tumn tumn, I think we can still enjoy his present hairstyle till next May 2008... !
I think he will be still in the same hairstyle since he will
continue
filming Shanghai Typhoon (NHK~Japanese tv series) next May.

He is almost bald without bang.....




Posts

: 218


Join date

: 2007-11-08



banlong
, my friend said the same thing!

... She said, "Peter Ho? Is he the one who's almost bald?"...




Posts

: 72


Join date

: 2007-11-18



Bald? That to mean!!!
Maybe, only me that like Peter hairdo in Feng Yun 1...Curly blue...very unique






Posts

: 154


Join date

: 2007-10-21


Age

: 33


Location

: Indonesia, Jakarta




bald ?? i know it's because of his forehead....

It's okay...long forehead mostly refers to a genius person.
Perhaps, we'll call him Professor Ho ... in the future

Yup, Peter's blue bowl hairdo is so unique that we cannot easily forget it.....


---
Permissions in this forum:
You
cannot
reply to topics in this forum