Link to diary on Peter's Blog: http://blog.sina.com.cn/s/blog_473843a60100832j.html
Translation:
2007-12-21 11:40:19
Jian Hong falls down from the stage: Before starting to grow, is already forever diagnosed with inability to grow again!
This week had really made my mood fluctuated high & low, during performance at Shenzhen several days ago, my godson, Jian Hong unexpectedly fell down from a stage of more than 2 meters high. At the time when he was carried to backstage, it was my turn to go on stage for performance, unable to accompany him to the hospital right away, it really made me worried sick… Oh, nothing can be compared to parents' love for their kids… After my performance, I immediately rushed to the hospital, I was relieved seeing that he did not have any major problem. The doctor gave me a report, Jian Hong nervously asked me what was written on it. I used a very discreet and serious tone to read it: "The vertebra is injured, will directly affect the patient's growth, most likely unable to grow anymore taller." He shivered, grabbed my hand, looking helplessly at me, these words seemed to have given him the biggest hit in his life. The reason being he has always dream that he could grow until 185cm since childhood (must be at least 1cm taller than I). However, these doctor's words have made him stayed at 169cm for a lifetime. Before he went unconscious, I was not willing (to see his sadness), so I just told him that I was telling him a joke a moment ago. He was just like me when I was young, also worried not being able to grow tall, but Jian Hong don't worry, when I was in Primary 6, I was the second shortest in the class.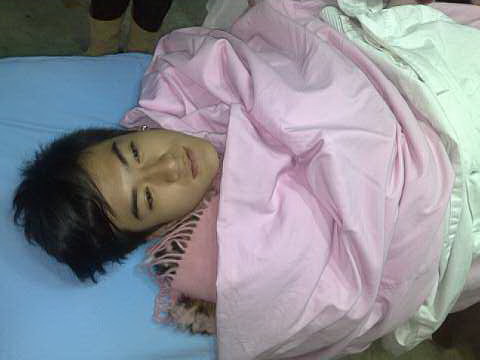 My little baby is very painful…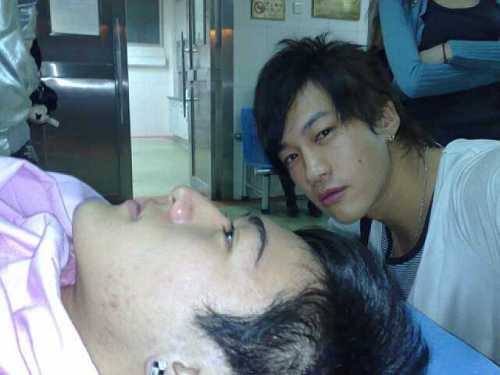 "Terrible godfather, I am so miserable, yet you still want to play this kind of joke with me, wait until I grow taller than you, I will use my nostril to stare at you!"
As for the matter that made me very happy, is that everyone's efforts have finally gained achievement. Because of everyone's support and enthusiastic votes, I could receive The Best Spokesperson, as well as, Hong Kong & Taiwan's Most Favorable Male Star in the award presentation of the BQ Famous People List. You all are really great! Good unity! Senior officials from Heuer (Tag Heuer) wristwatch also think that I am very blessed to have your support behind me. Without your encouragement, it would not be possible for me to return to the music world again, realizing my dream again. You all must remember that every song of mine is sung for you all to listen to. Because without you all, these songs will not exist, neither will I have this moment of honor and glory. Long live the Family!
Oh yes, yesterday night bringing along with all of your joyful voices, I had a sweet dream. I wish everyone will have a beautiful dream tonight ~ Sweet Dreams! ~
While Peter wishes everyone sweet dreams, I would like to wish everyone in this forum a very Merry Christmas & a Happy New Year!



Posts

: 72


Join date

: 2007-11-18



tumn tumn
, thanks for your effort in translating

It's kinda up and down for Peter. One side is he's sad for what happened to his beloved 'godson', the other side is he's glad for getting 2 awards for BQ.
I don't know how Peter performed that night when the incident happened. If I'm not wrong, he sang 3 songs : Shuangfei, MYWNZMB, WZZHN. I saw the clips of the two songs, except WZZHN. Wish to see him sing this new song live.
Peter loves his 'godson' so much. Jianhong is so lucky. Where can he find such a caring and famous 'godfather' like Peter?

For those who celebrate Christmas. Wish you a blessful Christmas and happy New Year




Posts

: 537


Join date

: 2007-10-21


Location

: Indonesia, Surabaya



when his godson got injured, Peter still made joke with him...how naughty the godfather is!



Posts

: 218


Join date

: 2007-11-08



HI, I'm NB
@tumtum: Thanks 4 the English version of Peter's blog.
I don't understand the meaning of words: Godson" & " Godfather". How's the relation? his "godson" is adult?



Posts

: 20


Join date

: 2008-01-11



hoangle_ha wrote:HI, I'm NB
@tumtum: Thanks 4 the English version of Peter's blog.
I don't understand the meaning of words: Godson" & " Godfather". How's the relation? his "godson" is adult?
Hello NB! Nice to see u here...
This Godfather & Godson relationship is whereby the son is sponsored, supported or taken care by a godparent (in this case, it's Peter). It's almost like an adoption, but this does not only limit to the orphans. Have u seen in Chinese dramas on how they have this "godparent-godchild" ceremony? Well, Peter once said they had a real ceremony whereby Kris Shen Jian Hong kneeled down & served a cup of tea to Peter & called him "Godfather". Then Peter gave him a red packet as a token of love and good luck.
The time when Peter "adopted" Kris, Kris was only a young kid. Now his "son" has slowly grown up. Actually Peter says he's only 15 (last year). I think Kris grows too fast!!! That's why people are puzzled when they heard Peter called Kris his "Godson". Hope this has cleared ur confusion, NB....




Posts

: 72


Join date

: 2007-11-18



Tks Tumntumn 4 the explaining
Before getting into this 4rum, I had so many suspection on Peter's XXX...seeing many of his photos with the guy, seemed closed...even tidy hold kissing (?!) in his birthday cheer...
This guy appeared with Peter in almost his events. I didn't understand Chinese comments so just surmise....homo or not homo???...ha ha



Posts

: 20


Join date

: 2008-01-11




---
Permissions in this forum:
You
cannot
reply to topics in this forum