•
A self-destruction of my image , acting a baby
• The Unmarried Club was established in 1999, the founders are two guys from Taiwan, Shi Changzheng and Peter Ho. The club, afer 8 year's prosperity, finally declared breaking down on Jan. 12, for one of the founders has been disqualified formally.
For this day, we Shipai Gang ( Shipai is a district in Taibei, this gang is named by our close friends who have been known more than ten years or twenty years at least)are happy for him. But it is a bit difficul to part with. Being married, he can't do silly things like before any more. If you fellows remember, I ever shared his wedding photos which was taken by me with you in my last several diaries. We also filmed a funny marriage blessing for him. Of course the photographer and director is me. Hurry, everybody! Come to see the video, it's so funny!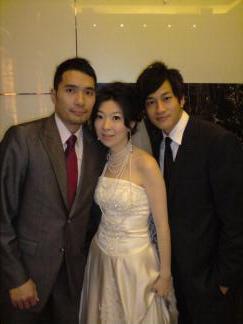 (bless you, brother!)
When the happy pair looked on the stage, the bridegroom was wiping the tears secretly, afterwards I was pushed onto the stage by people to participate the beer drinking competition. A majority thought me refinement and only could be the winner of Milk Drinking competiition. However, it was my close friend's wedding, I must certainly be ready for any sacrifice! As a result, I drank the most quickly and got the first! For I just opened my throat and filled the whole bottle of beer in.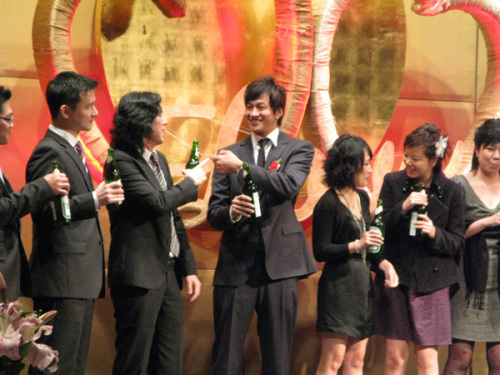 (Beer Drinking competition )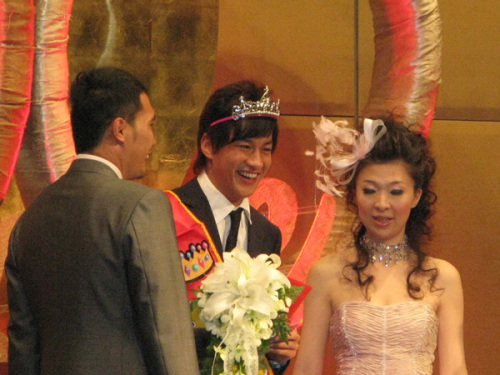 (This cursed idea! It wasn't a beauty contest. How could they put a crown of Miss World on a champion of such a manly contest like Beer Drinking?)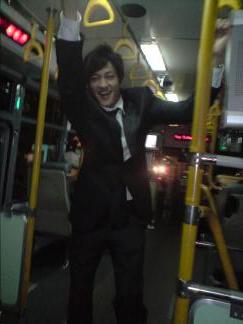 (Dicided to go to the party of teasing the couple. Having not taken bus for more than ten years, we felt it wonderful!)
Teasing the couple was really horrible! The bridegroom was almost stripped naked. His body and face became a drawing board to create the doodle with greasy pens. on the other day he woke, the doodle couldn't be washed off even through ten times baths. Then he asked me why he had turned into Iverson of NBA when looked in the mirror. (originally ,I wanted to show his picture in which his body filled with tatoo, but, well, if I did that, he was bound to redouble on me, then I was as dead as a doornail. )
PS. On the same day my other good friend has also completed his marriage in Hong Kong, his name was Zhang Jin, his bride was Cai Shaofen. Sorry, I couldn't attend your wedding ceremony. Here offer all my blessing to you!



Posts

: 218


Join date

: 2007-11-08



@banlong: Great...thank you 4 the translation.
I'm so so soooo ashamed of misunderstanding Peter's new message on his blog...I'd watched the photos & the video clip, then thinking he'd written abou some of his award's event. Wow, the 2 MC in his photo were so unfashionale.....

Ha ha..., now they turned to bride & groom in a wedding, a beer competition in which Peter was "Miss Winner"....


How stupid I am...





Posts

: 20


Join date

: 2008-01-11



xie xie,
banlong
!! really appreciate your time to translate for us

Finally, from now on, Peter is left alone in the "bachelor island" (borrow P's term in his previous blog).
His friend really made fun of Peter with that beauty contest crown. HAHAHA
ha
, about the awards, u can see the piccies in gallery section.



Posts

: 537


Join date

: 2007-10-21


Location

: Indonesia, Surabaya



baby peter is cuteeeeeeeeeee !!!



Posts

: 132


Join date

: 2007-11-02



cute? oh, the baby's mouth is soooo big!!



Posts

: 218


Join date

: 2007-11-08



ha ha ha !!! as peter done . i think so cuteeeeeeeee .

i love all of his acting . when i see him i think no matter peter done , it 's ok .



Posts

: 132


Join date

: 2007-11-02




---
Permissions in this forum:
You
cannot
reply to topics in this forum