This is Peter's latest article

here's the URL: http://tw.fashion.yahoo.com/blog/FESymapJcv9eXSjzrJ7NxQ--/article/?mid=615
CARTOON'S SPIRIT
I picked up with Guo Pinchao(Dylan Kuo) when shooting The Men and Legends. But it's a cartoon book Bei Dou Shen Quan (Hokutonoken) that made our friendship so deep. When we were children, Guo Pinchao lived in Taiwan while I in Canada. Maybe we were reading the same book at the same time on opposite sides of the globe and growing up. Bei Dou Shen Quan deeply imprinted the concept of loyalty and valueing friends on our pure minds. After growing up, the imprint also deeply affected our attitude toward lives. When I first time talked with Guo Pinchao about Bei Dou Shen Quan , the imprint in our minds awoke, it felt the other one. our friendship got firm instantly.
two kids waiting for growing up......
a hero accompanying their growing up ......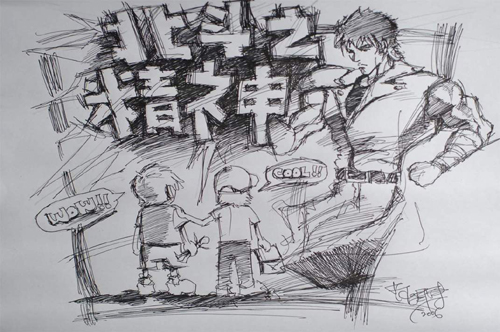 Many people said we looked like the characters in cartoon. However, I'd rather say that we are continueing cartoon characters' spirit. We bring their spirit never yielding to fate into our lives. We haven't learned performance, either music. I believe we are struggling all the time by this kind of cartoon's spirit. This is a so-called cartoon character that I really want to become.
Recently I take a fancy on a set of cartoon "GANTZ". Though this set of cartoon is classified as restricted for full of a lot of blood, slaughter and dismembered bodies(I suggest children not read it!) , its theme and the way it tells is very creative and interesting. it is creative, namely, how the plot will develop is completely unknown; it is interesting, namely, the discription about human nature is realistic and delicate. Simple while profound, the multiple personality is presented on various roles by the rules or ways of slaughter. Moreover, not only the real human nature are various, so are the aliens who reflect different characteristic of real society. As you are reading the book, you'll think: " yeah! That's right! I think the same way!" or " yes! some people are just like this!", you'll ponder: " what would I do if I were the hero of this cartoon? " With the story's developing , the individualities and moods of the roles also change. Some people are more depraved, some lose themselves and totally depend on a certain leader.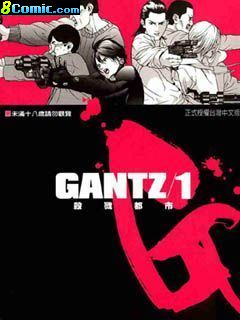 The author:
奧 浩哉 is one of the masters I appreciate very much. He makes background by computer then draws characters on the background. It sounds simple. In fact, this way of drawing is more complex and subtle, but more realistic and in accord with science fiction's style! Not long before, I directed and acted my MV, thereupon had my own views about shooting movies and forming scenes. So I'm eager to film "GANTZ" after reading it. I even have had the leading actors in my mind!
Leading roles:
玄野計~
played by Eddie Peng, at first he has no much sense of justice and leadership. He's an ordinary student, accidentally enters the slaughter world of GANTZ because of saving others with 加藤勝and losing their lives. After finishing killing task again and again, his mood changes, his mind becomes keen and his leadership characteristic also emerges. But the slaughter seems to be ceaseless, even if he has escaped from GANTZ……
加藤勝~
played by Dylan Kuo, he is good friend of 玄野計, has typical heroic characteristic, positive, optimistic, justicial and always ready to help others. After entering the world of GANTZ with玄野計, he tries his best to achieve the goals which GANTZ appoints. However, he is killed in a certain action. Instead, his death let 玄野計 be independent and begins to lead everybody! Later, 玄野計 also fights to death unfortunately though at that time he has made加藤勝 relive. Now 加藤勝 faces the difficult problem whether he should make玄野計 relive and return to this world where slaughter never ends…..
和泉紫音~
played by me---Peter Ho, an aggressive man whose character mingling kindness and evilness. You'll love him, because his great power makes GANTZ Squad stronger; you'll hate him, because he only care about how to become more powerful. Finally his character also changes. In an action, he is regarded as the object to kill. Originally he perhaps wouldn't die, but for a girl, he…..
So many I have told are all male roles. Those female roles having abundant breast and slender waist are indispensable for a Japanese cartoon. Who are suited to play them? I haven't think it. Recently I self-directed and acted the MV of my new single I Only Care About You. I get more experience from this job. I hope that I can continue the indomitable spirit of cartoon and direct more good works for everybody!
Bei Dou Shen Quan (Hokutonoken)'s cover picture: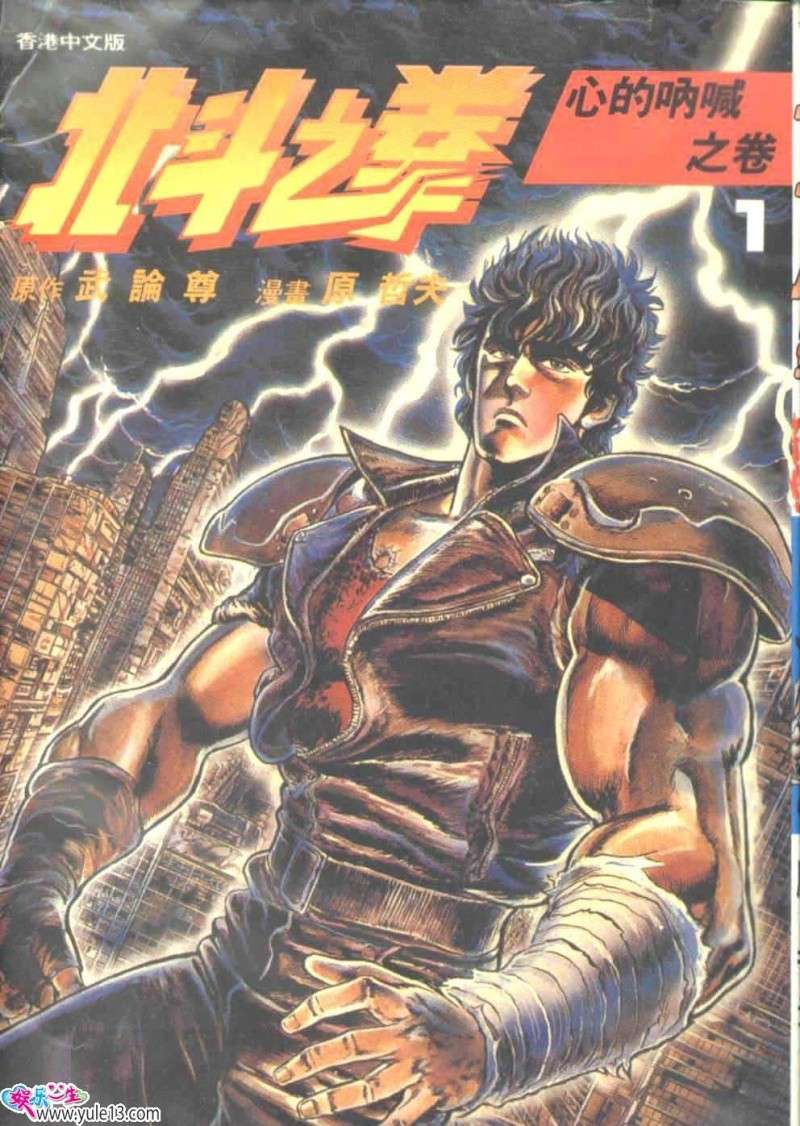 Does he look like our guy?
interesting! interesting !

Our guy is really comic-minded. Peter chooses for his own character.... the character that we'll love and hate him. Hmmm..... smart Peter!!
thanks to banlong for your effort in translating such a long article.

could you please give the pin yin for the names of the characters ?
I saw Peter showing "Bei Dou Shen Quan" comic in the clip "Peter in Manhua store" It's different with this one. Anyway, Peter will be

to role as a muscular hero.



Posts

: 537


Join date

: 2007-10-21


Location

: Indonesia, Surabaya



Hi..It's been long I'm not drop a messege here...Now...me return...
how are u girls, guys? i hope u all'll be fine during this new year...
so..i see the comic Bei Dou Shen Quan that peter read during his childhod...it's bring back all memories..me, also, as a child, in past time, also like this comic...the comic kindda full of blood. but really have great character n story lin...it's been publishing here in indonesia in title "Tinju bintang utara" (i think, have same meaning with the chinese title)..but never get completed cause the factory that published the comic falled into fire accident..so sad T_T
so..i mean, the comic is really great...no wonder..those two big guys like to reading it so much

)



Posts

: 154


Join date

: 2007-10-21


Age

: 33


Location

: Indonesia, Jakarta



fang2:
玄野计 XUAN YE JI
加藤胜 JIA TEN SHENG
和泉紫音 HE QUAN ZI YIN

"Bei Dou Shen Quan" is a set of books and has different cover for evry book.
I heard that Peter's manager is negotiating five cartoon books, including "GANTZ"! they will choose one, I think.

yessy_loren :
you have read "Bei Dou Shen Quan", I admire you! I just read a few pages of it for lack of pacience.....
Hey
banlong
Thank u so much for the translation. I have not read both comics so I dunno how the story goes, but Peter's description on the characters in Gantz really interests me. I have seen the book here in English version... very expensive. Hope I cud really see his version of "Gantz"...

fang
,
If u want the names of the characters in Japanese:-
玄野 計 - Kurono Kei
加藤 勝 - Katō Masaru
和泉 紫音 - Izumi Shion
For more information on Gantz, you can read it from here: ガンツ - Gantsu



Posts

: 72


Join date

: 2007-11-18



thanks.....banlong & tumn tumn

for the names of the characters!!
I think I'll wait patiently till "Gantz" or any other comics Peter likes
turned into
series in which Peter roles in.

Oh yes, in one of the clips (Peter's phone conversation with Phoenix TV - Ent News) Peter said that he plans to ask Gao Yuan Yuan in his self-produced series.



Posts

: 537


Join date

: 2007-10-21


Location

: Indonesia, Surabaya




---
Permissions in this forum:
You
cannot
reply to topics in this forum