Happy Boy Herundong
A few days ago Herundong once again carried out a secret assignment by a different identity. He succeeded in bribing the opponent's defence header to let him sneak into their base. Herundong was an intelligent thief, he liked to leave some trace on his crime spot so as to make this plot more suspensive. He drew a cartoon portrait of himself on the opponent's calendar, then blew his breath on the mirror and wrote a "HELLO" with his finger(the vivtim must blow her breath on the mirror to see the word he left). Afterwards he hid a magic necklace which would trap the victim eternally into her pillow. The last step of his plot is to be done,now Herundong took up the lethal weapon!

......
The lethal weapon was a wiper actually

. And his identity was a secret servant! It was "Happy 2008"program led the conspiracy. The process was sneaking into one of his fan's home, leaving a gift where the fan couldn't find, then did a thing for her( of course I did the best of my capabilities --- sweep

).
On the scene of the live TV show, we invited the fan to the stage, let her see the VCR. Amazedly, she knew I've been to
Her house and done those things

. Moreover, she only at present knew the big "hippo", who danced with her and attempted to sell toys to her in the supermarket that afternoon, was Herundong too!

Really happy 2008! I'm happy, fans are happy, everybody happy!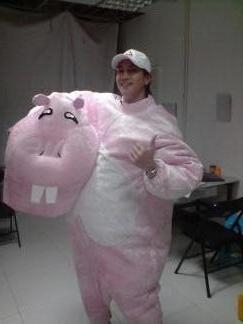 These days I truly feel that I'm a happy boy. On the recording day I really met "Happy Boy"( the name of idol boy group), so truly a group of happy boys! We had a lot fun in playing soccer together, for everyone was pleasant.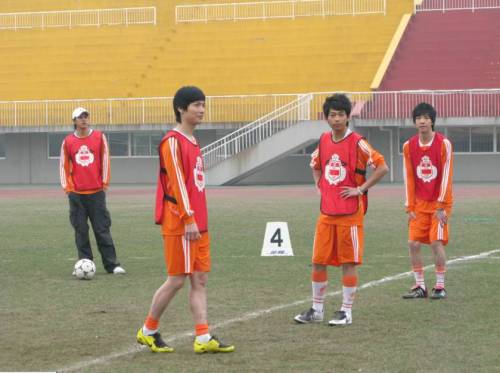 I met Chen Chusheng for the first time, noticed that he had a good personality. At the present time, many young entertainers like to be proud and think themselves powful as a cattle. However, the one thinking himself a cattle usually is most likely to be cracked his ass by a cattle's bump. But I found Chen Chusheng polite and modest, with a sincere expression in his eyes. It's not often to see a boy like him in entertainment circle. So after the recording finished, I had a photo with him, hoped he and all the "Happy Boy" to attain greater achievements constantly, always a happy boy.
Well, I found a good way to sign CD and snack at the same time.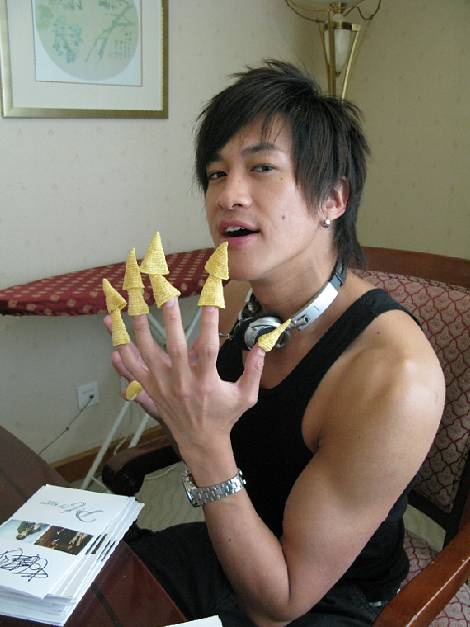 Notes: The hand of the devil = The hand of calorie = The head of calorie



Posts

: 218


Join date

: 2007-11-08




wow, peter updated his blog...... !!
banlong thanks so much for translating.
I really enjoy reading P's blog... it's so entertaining.
He's so funny.... I laugh loudly when seeing his 'hand of devil = hand of calorie"





Posts

: 537


Join date

: 2007-10-21


Location

: Indonesia, Surabaya






Posts

: 132


Join date

: 2007-11-02



What?! Peter Ho was in my house? Was in supermarket I went before?! If I am that fan, i'll be so shock!

Happy shock ofcourse! I also fell bit disapointed, why in those time I don't release that was my idol who dance n sell a toy to me! Ha3! This reality show so interesting..i wish, someday, peter will come to may house too, n drop some "HELLO" word in my window




Posts

: 154


Join date

: 2007-10-21


Age

: 33


Location

: Indonesia, Jakarta



hello, yessy

u can see the lucky gal and how P cleans her house here .....

http://peterho-sunnyplace.pforum.biz/other-events-f17/15-mar-08-joyful-life-2008-show-t198.htm#1111



Posts

: 537


Join date

: 2007-10-21


Location

: Indonesia, Surabaya




---
Permissions in this forum:
You
cannot
reply to topics in this forum