Peter Ho Won "Star staff" Award of Modern Express
Yesterday afternoon, Peter Ho and his lovely godson Shen Jianhong came to the video interview room of Jiangsu City Network. In addition to the promotion of their new album "PK", there was another very difficult and interesting task for them --- to experience the two kinds of real life: An editor of Jiangsu City Network and a reporter of Modern Express.
The first task:
As soon as they sat down , the editor of Jiangsu City Network began to set tasks. A beautiful female announcer brought out a little broche box, there were three tasks in it. Peter Ho drew the first : Shooting video chat as a photographer. This is just his strenth. Peter skillfully handled the camera and began to photograph Jianhong. At the same time, Jianhong disclosed that Peter knew all kinds of cameras as well as using them. So now Peter could do his stuff.
Video interview started at a quarter past four in the afternoon. Jianhong met the internet friends first. he showed their new album "PK" to everybody. The album was packed in a hexagonal box, in which there was not only an original album, but also a T-shirt of limited edition designed and painted by Peter himself. At this time, Peter was concentrating on his photographer's work. During the course of shooting, a corner of the poster on the wall was always curled. Peter, whose constellation was Virgo, a perfectionist, certainly couldn't stand that. He was so stubborn to affix the corner that he walked into the filming scene carelessly.
At this juncture, an editor said with Nanjing accent: " Peter is good at drawing cartoon, why not draw a cartoon for Jianhong now?" Peter wittily spoke in Nanjing dialect at once:" alright! I'll draw now." His answer aroused a big laugh in the studio. Several minutes later, Jianhong's cartoon image was completed. On the picture, Jianhong pouted his lips and said:" I'm sorry." Peter explained that they were late because of Jianhong's misusing the credit card as the room card, thus Peter specially apologized to internet friends for Jianhong by this means.
(to be continued....)
Last edited by banlong on Fri May 16, 2008 8:53 pm; edited 1 time in total
The second task: Interview the entertainment reporter

The video interview finished, the editor brought out the second broche box, this time Peter and Jianhong drew a task to interview the art editor of City Network and the entertainment reporter of Moden Express.

Receiving this mission, the "father and son" immediately went to the Publicity Department of Jiangsu City Network. Jianhong called himself a rookie reporter, to interview the head of the Publicity Department. When the head told him that he was working all day except sleep time, Peter smiled and asked: "You are just like us artists who have no time to accompany girlfriends, aren't you? ". Later, Peter and Jianhong went to the Internet to experience the newly opened Olympic channel of City Network. In the Olympic channel they found a very amused sport game. The two guys began to fight over playing the game, almost forgot that there was another interview work. At the urging of their agent, they rushed to the next interview spot-- Entertainment Department of Moden Express.

"What's the greatest fear as an artist? The paparazzi, of course. But the Modern Express is no paparazzi. They speak the truth and do practical things like a great hero! " Peter started the interview with a funny opening remark. Facing the senior entertainment reporter, Peter and Jianhong still remained their humorous character. They asked the interviewed if he had a girlfriend or office romance. They looked so nosy, just like a professional paparazzi. The whole interview process were relaxed and happy. Usually they were interviewed by the entertainment reporters, now the identities were exchanged, and they did it really well. Thus the second task was accomplished successfully.

(to be continued.....)
Last edited by banlong on Fri May 16, 2008 8:51 pm; edited 1 time in total
banlong,
thankssss.....

Wanna to share the pix...

(go to the Gallery to find more piccies)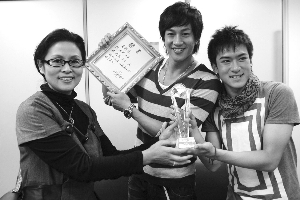 credit: baidu tieba



Posts

: 537


Join date

: 2007-10-21


Location

: Indonesia, Surabaya



The third task: make a picture page

Peter and Jianhong's last task is to arrange the pictures of Modern Express under the help of a beautiful art editor. Knowing that this page made by themselves would be presented to them for a souvenir , Peter and Jianhong worked extraordinarily hard. In the process, Peter kept praising the editor that her hand moved faster than the computer. Jianhong said vividly: "Even the mouse couldn't bear your speed. It would turn over, twitching its hands and feet!" His words made the editor laugh a lot.

When the "father and son" began to arrange the layout personally, they found this work wasn't so easy as it looked. After all they never tried art editing before. The first step of selecting pictures has already confused them.

"Select this picture, it's good, Jianhong looks cute in it!" Peter said. Jianhong immediately pouted his lips:"I look so foolish in this picture! That one is better. Look, how handsome I am!" In the selecting process, Peter kept making fun of Jianhong's mature looks:" Now we are father and son, two or five years later, we are still father and son. However, our identity should be exchanged till then." Good tempered Jianhong didn't get angry . From this we could see that the relations between them was not only father and son, but also good friends. After the process of selecting, arranging and platemaking, a picture page turned out wonderfully. Looked at the page made by themselves, the two guys were satisfied and happy to collect it carefully.
(to be continued.....)
Last edited by banlong on Fri May 16, 2008 8:50 pm; edited 1 time in total
Reporter Notes:
There were many words to describe a man's charm. Even so, I found my words too scarce when Peter Ho really appeared in front of me. Jianhong was also a standard good-looking boy. A lot of film rolls have been "killed" before the two handsome guys walked into the elevator.
If the handsome face was a gift from heaven, then God may showed too much preference of Peter. Singing, photographing, painting……he was an all-round artist. With the addition of his polite and modest words , everyone's heart would be caught by his "tender trap". He was always watching the reporter's eyes sincerely whatever question he was asked, then gave an answer after serious consideration. He was witty, because he knew how to led the topic to what he wanted to express. He was humorous, some casual words could make the fans burst into laugh on the scene; He was talented, some simple outline could accomplish a perfect cartoon picture; he was childish, as an eldership, liked to play joke on his adopted son; he was open, gobbled his favorite food in disregard of his idol image. We saw a different Peter through the activity today.
The whole mission is accomplished: they win the "Star staff" trophy cup!
"The working environment here is very good,as well as the modern design of the office. It's a pleasant thing to work in such a building." After walking around the newspaper office , Peter expressed his heartfelt admiration.
Because of the father and son's earnest and creative work, the head of newsroom and entertainment department awarded them the trophy cup and certificate of "Star staff" . Peter and Jianhong happily posed for pictures with the trophy cup and certificate . When the head said that there were wages for their work, the two guys prefered a bowl of fans and duck blood soup to wages. To their pleasant surprise, the editor really has prepared fans and duck blood soup for them. They ate up three bowls, but still didn't feel enough.

(end)
banlong, thanks... it's a loong translation. U must be working so hard

I'm happy to read the "reporter notes"..... it's just so right to describe about our dear peter

"duck blood soup"??

I've never heard about this kind of soup. Is it really made from duck blood? What colour is the soup? Curious to know...




Posts

: 537


Join date

: 2007-10-21


Location

: Indonesia, Surabaya




---
Permissions in this forum:
You
cannot
reply to topics in this forum