credit: http://tieba.baidu.com/f?kz=375718732
I take the challenge to translate this article....

08.5.12何润东最想看奥运篮球赛
HRD wants to watch basketball match in Olympic Games the most
京华时报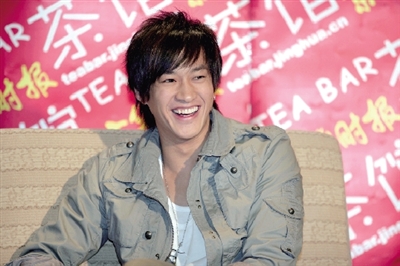 When filming "Cooking Master" TV series in 2005, He Rundong at that time received a 13 year-old entertainer- Shen Jianhong as his adopted son. Now this young and handsome "father and son" hand in hand promote limited version "P.K", getting ready to receive a warm welcome from fans.
Recently He Rundong took Shen Jianhong to be a guest in Beijing
Teahouse, where he told labout their 'father and son' deep feelings. At the same time, "Liang Zhu" TV series in which he and Dong Jie acted the leading role" begins broadcasting in Mainland. He Rundong even specially shared with fans some behind the scene photos during the filming. Talking about 2,008 Beijing Olympic Games, He Rundong and Shen Jianhong both hope can watch the basketball game on the spot.
As the meeting just started , He Rundong sat on the sofa and greeted his fans in front of him. Then he pointed at Shen Jianhong sitting next to him and reminded him : "You first introduce this PK special edition to everybody". Shen
Jianhong nodded his head, then obediently introduced: "I'd like to show you all my album "Half Grown-up ". Since foster father has a new single " I Only Care about You ", our company then gathered these two albums into one package. Foster father's English name is Peter, and I'm called Kris, so it becomes "P.K". Inside the box, you can find a T shirt which was personally designed by foster father. Hearing Shen Jianhong mentioned 'foster father', He Rundong said teasingly, "He's now is too tall, so we are like brothers. He hoped that before new year of the lunar calendar, he could throw away this 'father and son' relation, so that he would not need to give a big hongbao. Laughing jokingly, HeRundong commented on Shen Jianhong's growing up in these few years, "Talking about early debut years, he is much better than me. Now when we have a show together, he is the first one to perform using his powerful song and hot dance to heat up the atmosphere"
(to be continued...)



Posts

: 537


Join date

: 2007-10-21


Location

: Indonesia, Surabaya




---
Permissions in this forum:
You
cannot
reply to topics in this forum