I found my foreign friend castrated!!! (2008-10-09 10:59:17)
Welcome back, my fellows! I believe all of you had a fruitful October Holiday. Sure, my holiday was good too. I made a new friend during the holiday. My friend, or should be called my brother, just came from abroad. Recently another friend of mine beautified my brother, dyeing his black hair into brown , then into crimson at last. Poor fellow! I found that my brother has been castrated and lost his thing. I pity for him because, as a man, it's sad to live without his thing…… However, he has adapted to this situation and is happy with his life.
Every group has its name. So the name of the group composed by my brother and me is naturally called: "the real man among men is Lu Bu, the real horse among horses is Chitu."(Chinese ancient saying) Almost the whole holiday I was dealing with him, patting him as more as I could so that let him feel a little more love. I told him that it was not my intention but Fate made me ride on his back. Usually we practiced lance skills on 9:00 am. Besides Horse Chitu, the other bosom friend of Lv Bu is Mr. Great Hastate, who is very renowned in China. Mr. Great Hastate is 4 metres high, even Yao has to look up at him. Thus you can imagine how amazing his devastating power is~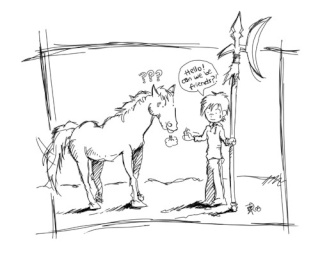 In fact, before the holiday I was willing to share a story with all of you. I don't know if you have seen the TV program "Lightening Moving Star", in which I was assigned to Malaysia to help raising funds. All the process went smoothly as expected, nevertheless, my inner barrier was broken and my heart melted once again by end of the program. Little Liu Xing appeared with a cake on the stage to celebrate my birthday (if you don't know him, please read my earlier blog. Liu Xing is a child suffering from leukemia, I once helped him in the "Lightening Moving Star" program two years ago). No one had told me that Liu Xing was here, thus I was too excited to select proper words as I saw him. Truly, what I wanted to say was, "Little Liu Xing, you get more handsome than before!" Because he has grown taller, at least, with hair on his head! Ultimately I couldn't help shedding my tears. The most touching moment was, when I held him to the backstage, he insisted to hand me 200 RMB for helping the Children of Malaysia. Though he is still young, he knows how to help others. He is only 9 years old, but his power of love is far beyond that of the adult. He has set a good model for us! Through this diary, I want to speak to Liu Xing, "Uncle Ho is proud of you!!!"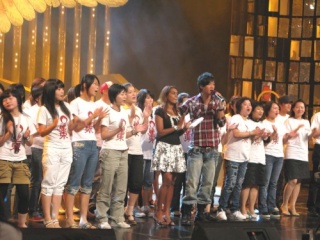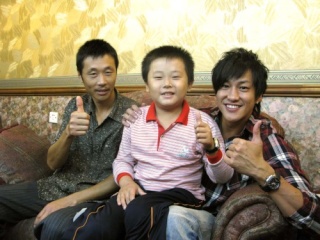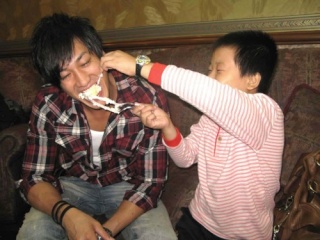 credit : http://blog.sina.com.cn/s/blog_473843a60100b4tz.html

Thanks so much to banlong for translating!!



Posts

: 537


Join date

: 2007-10-21


Location

: Indonesia, Surabaya




---
Permissions in this forum:
You
cannot
reply to topics in this forum