Taken from Peter's Blog
April 10, 2007 (15:00)I Was Kidnapped by Corn Star
The day before yesterday, as I arrived at the airport of Zheng Zhuo, I was conquered by Zheng Zhuo fans who were singing 'Hao Xiang Dui Ni Shuo' in their own typical way to welcome me warmly at the airport, they're just so sweet. This made me unable to forget Zheng Zhuo easily, since they were also singing merrily together with me in the gathering event, and shouting "East, West, South, North, our beloved He Rundong". It was such an unforgettable moment for me , and as after two days, there was another surprising thing waiting for me– Corn Star!
This frightening thing started like this. Yesterday, when I was in the studio, I suddenly got some pimples on my body, but it was actually not a big deal. Having O blood type, I was always welcomed happily by mosquitoes everywhere I went. From 5 to 10 pimples, from 10 to 20 pimples, a really great meal for the mosquitoes!?"
Zhengzhuo mosquitoes must be starving! Does the blood of Zhengzhuo people not fulfill the taste of the mosquitoes!? Or am I the one who has been waiting for everyday by those mosquitoes to be their pork meal!? As I was thinking of how the mosquitoes look for their meals, the pimples on my body soon became several hundreds and I turned into a corn man!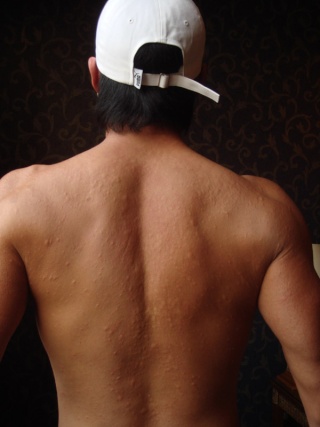 I could be sure, I had wrongly accused those local mosquito elders, because what I got was a kind of skin allergy. The reason was being kissed by mosquitoes would not make me breathe in difficulties, get temperature, have a runny nose and eyes. An iron man was not easily burst into tears! That's why I had to be taken to the hospital immediately! Wait! I need to cover my body first, or there'll a riot in the city!! "Alien attack!" "A Corn Star!" "Corn Star looks like our He Rundong!!" "Ah! A Corn Star!!!"
The doctor said that I had to take off my pants to be given an injection!! Ah?! Take off my pants?! No, definitely not! ! My butt is like gold, it must not be seen by others! After bargaining, I was given injection on my hand at last.
The struggle to face Corn Star was tiring, and I fell asleep.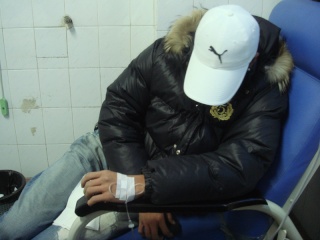 One and a half hours later, though I still got temperature and felt dizzy, Corn Star was already gone.My body returned as it was before.
My trip to Zheng Zhuo is an unforgettable one. Although I was kidnapped by Corn Star for several hours, I still feel happy about my first trip to Zheng Zhuo. I feel happy because of the warm welcome given by Zheng Zhuo fans, and this has already surpassed my trouble given by Corn Star.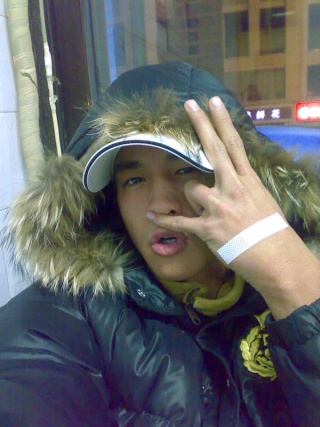 Zheng Zhuo friends, wait for me! I will surely come back! Next time, I will let Corn Star go far far away from me !
frenz, this is my 1st time trying to translate ..... hope u guys can understand

I'm interested in this story because first time I saw the pic, I felt so surprised, "what happened to our dear peter?"
banlong, star,... please PM when u find mistakes....

I will surely edit the translation.
i ever read this message in Thai <as my friend translate chinese into Thai >

fang , your translate is similar as Thai .

poor peter !! at that time when i saw this message i'm worried about him .



Posts

: 132


Join date

: 2007-11-02



this story is very funny ! i can't imagine how peter's look that time... this make me laugh very hard..
_________________



Posts

: 16


Join date

: 2007-10-21


Age

: 31


Location

: Indonesia



Peter has asthma too , luckily it happens not very often....

fang, I can understand your translation completely. you make a good job!



Posts

: 218


Join date

: 2007-11-08



guys, xie xie.....!! I'm happy that I can contribute something here... : )

banlong, I heard about his asthma from ltk. Hope that his asthma is far far away from him nowadays.

---
Permissions in this forum:
You
cannot
reply to topics in this forum